opening spring 2020
Designed Living
& Public Spaces
Church + State combines exquisite design, dynamic public space, and a retail offering that weaves into the existing urban fabric.
The intentionality of Church + State brings best practices in urban planning and architecture to promote walkability and multimodal transportation. It has a view of Cleveland's cityscape and the lake that is unparalleled.
With appropriate density, high design, and a curation of utilitarian retail amenities, Church + State serves as resource to both the residents of the buildings and the broader neighborhood.
neighborhood
Vibrant & Connected
Church + State is a part of Hingetown, a vibrant enclave of Ohio City on Cleveland's west side. Hingetown is home to fair trade coffee shops like Rising Star Coffee, best-in-class early child education like the Music Settlement's Pre-K program, and rotating contemporary and experimental art at the Transformer Station and SPACES.
Church + State is within a ten-minute walk of both Ohio City's Market District, home of the historic West Side Market, and the Gordon Square Arts District, home of Cleveland Public Theatre, Near West Theater, and the Capitol Theater, and many restaurants and local shops. It is also just across the bridge from downtown Cleveland, and within minutes of bike trails to Lake Erie and the Cuyahoga River.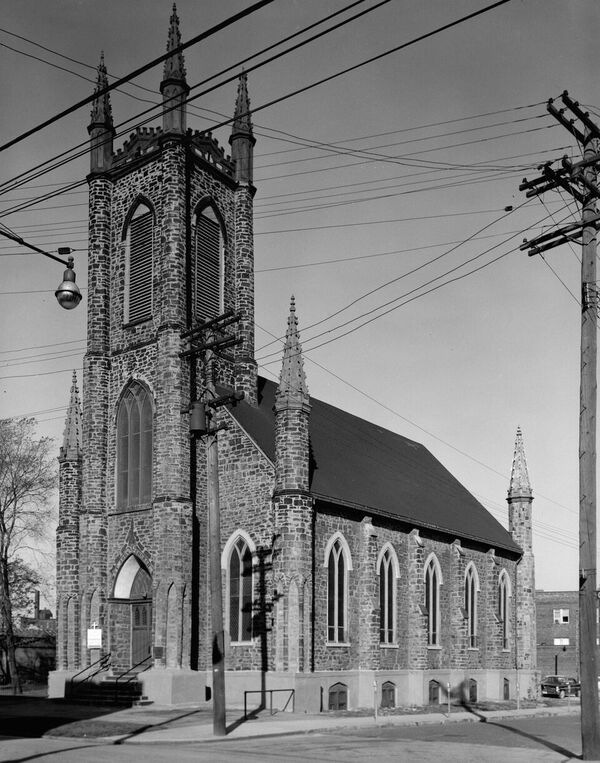 The area now known as Hingetown was once the civic center for the City of Ohio, a municipality that was incorporated two days before the City of Cleveland in 1836. This area was the site of the City of Ohio's Mayoral residence, its volunteer fire department, and the 8th precinct police station. The area was, and still is, also home to the oldest consecrated site in Cuyahoga County - St. John's Episcopal Church.
The name "Church + State" is a nod to the historical street names of the building's cross-streets - Church St. and State St. (now West 29th Street). Church Street was named after St. John's, which still stands on Church St. and West 26th St. The church is best known in Cleveland as a safe haven for slaves seeking their freedom on the Underground Railroad, earning it the nickname "Station Hope." It is now used as a flexible community and spiritual space for the neighborhood.
Church + State is also located where the historic street cars entered the interior of the neighborhood from the main corridor on Detroit Avenue. The area has a mix of historic brick industrial buildings and old Victorian housing stock that made it attractive to 19th century city dwellers and dock workers.
features
Why We're Different
Church + State has worked to incorporate thoughtful details and delightful moments in every aspect of its design. Among these features are:
Large open public space plaza with amphitheater seating and community splash fountain

Greenery-filled open roof deck with spectacular views of downtown and Lake Erie

Japanese-inspired three-season rooftop soaking pool

Nearly 200-space ground floor indoor dedicated bicycle parking

Massive rotating public art installation on building's exterior

First LEED certified apartment building project on Cleveland's west side

Spanish slate and other natural materials on exterior and interior

Connected retail and shopping ground floor

Secured indoor parking garage

Private storage units available

Modern package shipping and receiving
Our Location
Explore around
The map to the right shows Church + State's location and its proximity to downtown, the lake, and all the neighborhoods of the near west side.
Contact us
Say Hey
We love getting mail! To contact us or to set up a tour, please use the form at the right or email us at:
info@livechurchandstate.com